Title
Phi Brain: Kizuna no Puzzle
Kanji
ファイ・ブレイン 絆のパズル
Publisher
Arc System Works
Genre
Puzzle, Battle-ADV
Platform
Playstation Portable
Players
Single
Rating
Undefined
Release
31st May 2012
Game Official Website(JP)
Inspired by the world of NHK E Tele(Educational Television) anime Phi Brain: Puzzle of God, a video game adaptation was developed by Arc System Works for the PlayStation Portable and released in Japan on May 31st 2012.
The player is required to solve the puzzles via the playable main character - Daimon Kaito. At the last of each stage, a 3D reproduced POG puzzle will appear. Various puzzles are inspired by the anime and by collaborating with other characters in the game, the player is also able to improve the friendship.
There are also exclusive contents available in the "Archive Mode" based on the player's performance. In addition, depending on the progress of the puzzle, you can enjoy a higher degree of puzzle difficulty via the "Story Mode".
Characters Featured
Edit
Game Modes
Edit
There are two modes to explore: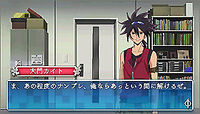 Story ModeEdit
Enjoy the pace of the original story, based on the world of the anime, where Daimon Kaito, a boy subjected to POG's special training as a "Solver", is nurtured through interaction with fellow schoolmates and enjoying puzzles.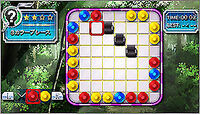 Archive ModeEdit
After successfully clearing puzzles in the "Story Mode", nearly 200 questions that are exclusive only in the "Archive Mode" are made available. Access to character illustrations and glossary terms used in the anime are also available.

Puzzle List
Edit
Huge Pulley
Sudoku
School Magic
Miniature City
Greathenge Maze
Labyrinth of Conviction
Word Square
Pastry Puzzle
Colour Logic
One-Stroke Puzzle
Slide Puzzle
Painting Encryption
Kanji Star Array
Encryption Menu
Cross Addition Puzzle
Matching Queen
3-Colour-Place
Dual Side Slide Puzzle
Level Labyrinth
Arithmetic Cross Number Puzzle
Laser Puzzle
Quadruple Sudoku
Amitabha Stone Stage
An example of a "Cross Addition Puzzle" aka Kakuro is here.